A Community-Driven Commitment

Embracing Community, Connection, and Collaboration
Welcome to the Toyota of Newport Community Involvement page! At Toyota of Newport, our dedication to our community goes beyond providing exceptional vehicles – it's about building relationships, contributing to meaningful causes, and creating a positive impact where we live and work.
Our Involvement with the Oregon Coast Aquarium
Toyota of Newport takes pride in our partnership with the Oregon Coast Aquarium, an organization that shares our commitment to marine conservation, education, and community enrichment. Through our sponsorship of events such as the Sea of Lights and various collaborative initiatives, we strive to support the aquarium's efforts to inspire a love for the ocean and its inhabitants.
Nurturing Education and Growth: Oregon State University
Our connection with Oregon State University reflects our commitment to education and fostering future leaders. Toyota of Newport recognizes the importance of higher learning and actively engages with Oregon State University's initiatives that align with our values. Whether it's supporting academic programs, contributing to campus events, or promoting innovative research, our partnership with OSU underscores our commitment to community growth and development.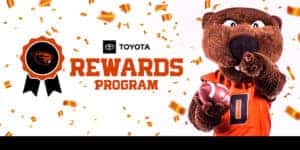 Extending a Helping Hand: Community Outreach
At Toyota of Newport, we believe that a strong community is built on mutual support. That's why we are always on the lookout for opportunities to lend a helping hand. Whether it's partnering with local organizations, participating in charity events, or supporting community initiatives, we are committed to making a positive difference in the lives of those around us.
Connect with Us: Share Your Ideas
We invite you to join us on our journey of community involvement and impact. If you know of a cause, organization, or initiative that aligns with our values, please don't hesitate to reach out to us. At Toyota of Newport, we believe that the best way to create change is by working together. Email us at [email protected] if you want to suggest a nonprofit to sponsor or if you are a nonprofit that would like to be considered to be sponsored.
Together, We Make a Difference
Toyota of Newport's commitment to community involvement extends far beyond the automotive realm. It's about creating connections, fostering growth, and contributing to a better future for everyone. We are excited to stand alongside the Oregon Coast Aquarium, Oregon State University, and various community partners as we shape a brighter tomorrow.
Stay tuned for updates on our community initiatives, collaborations, and ways you can get involved. Let's build a stronger community together.
For inquiries, partnership opportunities, or to share your ideas, please feel free to reach out to us.
Thank you for being a part of our community-driven journey.