Oregon State University Toyota Rewards Program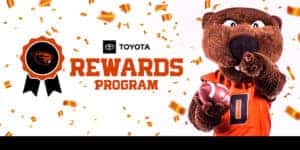 Oregon State University Toyota Rewards Program at Toyota of Newport
Welcome to the exclusive Oregon State University Toyota Rewards Program offered by Toyota of Newport! We're excited to introduce an opportunity that combines the thrill of exceptional vehicles with the spirit of Oregon State University. When you become part of our program, you'll unlock a world of benefits that enhance your experience with us in every way.
How It Works:
Sign Up: Visit the Oregon State University Toyota Rewards Program page and register for free. It's a simple process that gets you started on your journey to savings and surprises.
Receive Your Coupon: Upon registration, you'll receive a valuable coupon that can be used at our dealership for any service. Whether it's routine maintenance or necessary repairs, this coupon is your ticket to savings.
Redeem at Our Dealership: Present your coupon during your next service appointment at Toyota of Newport. Our skilled Service Advisors will receive your information and a FREE gift will be sent to you!
Unbox Your Surprise: After your service is complete, get ready for a delightful surprise! You'll receive a special package from Oregon State University in the mail. It could contain anything from game tickets to exclusive OSU gear and other exciting swag.
Join the Oregon State University Toyota Rewards Program today and enjoy the dual benefits of exceptional vehicle service and exciting surprises from OSU. Choose Toyota of Newport, where we will go above and beyond for your vehicle needs!

Ready to Get Started?
Visit our Oregon State University Toyota Rewards Program Page to register and kickstart your journey of savings and excitement. We look forward to welcoming you to the Toyota of Newport family!
For any questions or assistance, feel free to reach out at (541)867-3885 or visit our dealership at 3234 SW Coast HWY, Newport OR 97366. Your exceptional experience awaits!
Click here to see the upcoming game Oregon State University schedule!