Toyota of Newport and Oregon Coast Aquarium Partnership

Embracing Community, Conservation, and Collaboration
Welcome to the Toyota of Newport and Oregon Coast Aquarium partnership page! We are excited to share with you our meaningful collaboration with this esteemed nonprofit organization, where community engagement, conservation efforts, and shared values come together to make a positive impact.
Our Commitment to the Oregon Coast Aquarium
At Toyota of Newport, we believe in supporting initiatives that align with our commitment to community development and environmental responsibility. The Oregon Coast Aquarium's mission to inspire conservation of the ocean and its inhabitants resonates deeply with us. Through our partnership, we are proud to sponsor various initiatives and events, including the Sea of Lights, a beloved annual tradition that brings joy and wonder to families during the holiday season.
Illuminating the Season: December Sea of Lights
Toyota of Newport is a proud sponsor of the Sea of Lights event at the Oregon Coast Aquarium. This enchanting winter celebration transforms the aquarium into a dazzling wonderland with thousands of lights, holiday-themed displays, and festive activities. We are thrilled to contribute to the magic of the season and offer families and visitors a memorable experience that fosters community connection and appreciation for marine life.
Environmental Responsibility: EV Charging Stations
As part of our commitment to sustainability, Toyota of Newport helped be apart of installation of the electric vehicle (EV) charging stations in our parking lot. These stations not only offer convenience for visitors, but they also align with the Oregon Coast Aquarium's dedication to environmental responsibility. By providing EV charging infrastructure, we are promoting cleaner transportation options and contributing to the reduction of carbon emissions.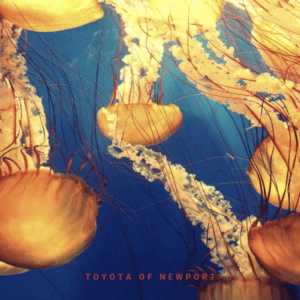 A Year-Round Partnership
Our partnership with the Oregon Coast Aquarium extends beyond. Throughout the year, you'll find various collaborations and initiatives that emphasize education, conservation, and community engagement. From educational programs for students to initiatives that promote marine awareness, our shared efforts aim to create a brighter, more sustainable future for our oceans and our community.
Join Us in Making a Difference
Toyota of Newport and the Oregon Coast Aquarium invite you to be a part of our shared journey. By supporting the Oregon Coast Aquarium, you are contributing to vital marine conservation efforts, educational programs, and community initiatives. We are honored to stand together in our commitment to preserving the wonders of the ocean and inspiring future generations.
Stay connected with us for updates on our collaborative initiatives, events, and projects throughout the year. Together, we can make a positive impact on our community and the environment.
For inquiries, partnership opportunities, or to learn more about how you can support the Oregon Coast Aquarium, feel free to reach out to us.
Thank you for joining us on this exciting journey of community, conservation, and collaboration.